Whenever I announce that I'm going to do something and it's met with a confused look and a "
Why?!",
I know it's a good idea.
Such was the case when I started telling people I was going to listen to every single band set to play Coachella in 2015. So, ok... why am I doing it?
I'll start with the obvious: Coachella is my favorite thing in the entire world. The first year I went for the music, but in the years since, it's been more about the experience as a whole. And while it will continue to be about that, I wanted to get back to the reason Coachella exists.
Second, when the lineup was released earlier this week, I realized just how few acts I was familiar with. Back in New York, I used to do a lot of freelance music writing and be much more involved in the scene overall. I interviewed bands for SXSW. I interviewed bands like Best Coast and Neon Trees before they were on the radio. I reviewed albums and shows and generally prided myself on being fairly familiar with most bands on the festival circuit. This year's lineup was a wake-up call as to how far removed I've become and I didn't like that feeling.
Last but not least, it's both fun and a challenge. I've never listened to every band that's played a Coachella before. I'm excited to make my way through all 160 bands and to share that journey on this blog. I plan to do it over the course of 10 installments, tackling 15-23 bands per post. It'll take about 5-7 hours of music to write each installment. But while this is no small undertaking, I can't wait to get started...
Starting with the first 16 bands scheduled for Friday.
But first, a User's Manual:
I am not a house music or EDM fan and I don't even know if those two things are one and the same. I don't know how to talk about DJs and this may even be the first time I've ever thoughtfully listened to them to try and find something to say. My point is: don't expect much from me there.
Though I try to assess bands from a more universal perspective, at the end of the day it will always come back to my taste. And I spent almost as much on tickets to Britney Spears's Vegas show as I did on my wristband, so take that for what it's worth.
Each band is rated Pass, Pause or Play. Passes are bands (mostly DJs) that I don't plan on seeing and/or can't justify recommending. Pauses are bands that I've discovered during this challenge and that intrigued me enough to want to check out. They're also bands that, maybe despite my taste, I can see the benefit in encouraging others to give a shot. Plays are the bands that I plan on trying to see, and include both old and new favorites.
Songs from every act that I find representative or at the very least, the most decent offering from that band, will be added to my Spotify playlist, SanBriego.com's Coachella 2015 Listening Party, as I make my way through each installment. Subscribe and listen along!
Los Rakas
-
Pause
My musical adventure begins with Los Rakas's most recent album,
El Negrito Dun Dun & Ricardo
. Not going to lie: I had extremely low expectations because this isn't the kind of music I would ever seek out otherwise and was kind of shocked a few minutes later when found myself nodding along, daydreaming of tropical summer nights. Thus proving the worth of this challenge early on. Of note: this Panamanian duo has worked with Diplo and made a cameo on the most recent Blondie album. Who knew Blondie was still making albums?
The Ghost of a Saber Tooth Tiger
-
Play
GOASTT
was founded by Sean Lennon (yep, John Lennon and Yoko's kid) and his model girlfriend of 9 years, Charlotte Kemp Muhl. They actually met at Coachella in 2006 and started GOASTT
two years later as a way to spend more time together. So... essentially GOASTT is a hipster fairytale. As for the music, it sounds exactly like what John Lennon's son's band should sound like. But more importantly, this act is poised to play the kind of dreamy afternoon set that will make them Coachella darlings. Also, they wrote a ballad about
Britney Spears
. Duh.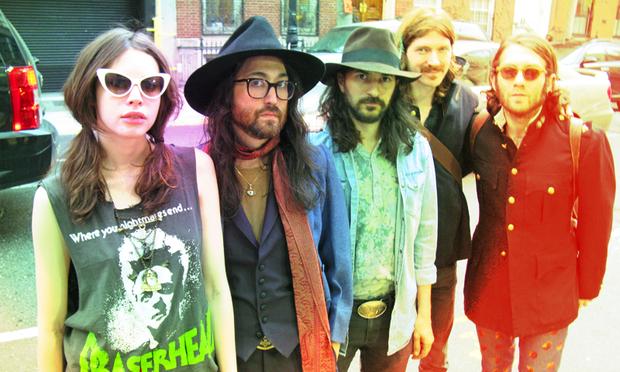 Marques Wyatt
-
Pass
Encountering my first DJ on the list was a rude awakening. I'm not a huge house music fan and I don't know how much of this I can take. Luckily there's not much available for Marques, who, by the way, has a "
keen sixth sense for creating epic parties
." I listened to a few minutes off of
Don't Look Back
and thought his remix of Kaskade's "It's You, It's Me" was fine. More or less, he sounds like the overhead music at Forever 21.
Brant Bjork & the Low Desert Punk Band
-
Pass
According to Wikipedia, Brant Bjork is "one of the more notable figures in the stoner rock and Palm desert scenes." Blah blah sounds like Sabbath blah blah. At first glace, Bjork looks like a Weird Al Yankovich imitator and apparently he is best known as the drummer of a band called Kyuss. Cool. Him and his Low Desert Punks have exactly one album on Spotify,
Black Power Flower
and I made my way through almost 6 songs before I gave up. 22 minutes of my life that I'll never get back.
Ryan Hemsworth
-
Pause
Hemsworth (no relation to Liam or Chris) is a up and coming Canadian DJ whose "specialty is future bass music and sampling." The first song of his that I checked out is also my favorite so far: "Snow in Newark." And though it reminded me of the Garden State soundtrack and Owl City, those are horrendous expectations to have going into the rest of his music. This is the kind of DJ music I can get behind.
Jason Bentley
-
Pass
Someday I would love for someone to explain the different kinds of DJs to me. Until then I will tell you what I understand about Bentley: 1. He's a radio DJ which is different than a regular DJ, 2. He's the Music Director at KCRW in LA and this is akin to being "
the Music Director for Los Angeles
" and 3.
He coordinated the music for all three Matrix movies
. So there's that. And
this
is the kind of DJ that I could really care less about... they curate and tastemake and mash up or remix other people's music... ugh.
Ruen Brothers
- Pause
English siblings Henry, 24, and Rupert, 23, are touted as kind of a big deal back across the pond. Before their debut single was uploaded, they'd signed a relatively unheard of four-album deal with Universal Records. And they recorded their first rockabilly pop album
right here in San Diego
, with The Killers's drummer, Dave Keuning. They've also worked with Kings of Leon's produce, Andreo Petraglia, and if you listen close, you can hear both bands's influence in "Aces":
Oliver Heldens
- Pause
Heldens is a Music Producer from the Netherlands and in the last two years the now 20 year old was signed by Tiesto and made his debut on the
DJ Mag Top 100 at spot 34
. Not to mention, his top two singles on Spotify have gotten over 34M plays. Heldens is what I call a "dancey DJ" and honestly, he'd be fun to go to later on in the day, when things are cooling down and you can dance your ass off.
Jon Hopkins
-
Pass
Hopkins is known for his work with Imogen Heap, Brian Eno and Coldplay, for composing the soundtrack to the 2010 movie "Monsters" and for being confused with a famous American medical school on Google. I listened to his latest EP,
Asleep Versions
, which features muted remixes of his songs from his full length
Immunity
and it actually almost put me to sleep. It's not the kind of ambient vibe I'll be seeking out at Coachella, but his music has great songs for a yoga playlist. Check out tracks like "Sun Harmonics" if you want to know what I'm talking about.
Chris Malinchak
-
Pass
Malinchak is the best American (by way of Brooklyn) DJ that I've encountered in the lineup so far. I listened to his song "So Good to Me" first, since that's the one that everyone, including Adele, seems to love. But listening to it myself, I can't really figure out why. His newer single, "Stranger" features a singer and a beat that's reminiscent of Michael Jackson and is much more fun. You know... if you're into that sort of thing.
Alvin Risk
-
Pass
Malinchak is quickly followed by another American DJ, someone who decided that, out of all the DJ names you could have, naming himself after a cartoon chipmunk was the best idea. His most popular song on Spotify is a collaboration with Skrillex (because, Skrillex) called "Try it Out." My favorite songs though are the ones released on his
Ventures
album last year, which you can
download for free on his website
.
Allah-Las
-
Play
Out of the first 16 bands, LA-based Allah-Las (which was
formed by 3 former Amoeba Music employees
) is literally: 1. the only band I've ever heard of before and 2. one of the bands I'm anticipating the most. I could have cried when I missed them at the Casbah in December, which is probably the perfect venue for them. And I'm hoping, though not betting, that they play late enough into the afternoon on Friday that I'll be willing to peel myself away from beer pong to head into the festival and not miss their hazy surf jams yet again.
Eagulls
- Pause
Eagulls is a post-punk band from Leeds, England and even though you wouldn't know it, they're angry. You can hear the influence of The Smiths and The Cure on their latest record, 2014's self-titled album,
Eagulls
but listen to the lyrics and you will find little of the poppy sullen love songs that are associated with their predecessors. Instead there's songs about drug-induced birth deformities, hating the neighborhood heroin addicts, and sexual abusers who get off scot-free. They're also infamous for penning
a semi-hilarious open letter to beach bands after SXSW
two years ago. If you need to get your Friday afternoon mosh on,
chances are
this is the place to be.
HAERTS
-
Play
It's no secret that I love 80s synthpop. I also love Stevie Nicks's voice. Put the two together and you get HAERTS, a Brooklyn-based band with members from Germany, England and the US. My guess is they'll be playing a mid-afternoon (think 2-4pm) set in Mojave and if this is the first act that you see at Coachella this year, you probably won't be mad about it. When you hit the Palm Desert on the road to the festival, put "All the Days" on and roll down the windows until you can't take the heat.
Ab-Soul
- Pause
Kendrick Lamar's labelmate is the first true hip hop artist I've encountered on the lineup, eschewing Los Rakas's latin dance jams. Ab-Soul grew up in a music store (no really,
his family owned one
) and challenged rappers in online chats to keystyle rap battles like any good 90s kid. He cites Jay-Z as his main influence (
I used to wanna rap like Jay-Z // Now I'm running laps around Jay-Z
) and his life was changed when his long-time girlfriend committed suicide in 2012. After a good listen to his 2014 album
These Days...
, I think Ab-Soul may be one of the most promising hip-hops acts there this year.
Pete Tong
-
Pass
It's during my last listen for this installment that I realize I don't know how I'm going to make it through giving all of these DJs a shot. So far, they've comprised half, HALF of the first installment. I'm curious to see if that ratio continues as I make my way through the whole lineup. I was tapped out of DJ tolerance by the time I got to Pete Tong, so this is an unfair (probably) and abbreviated (definitely) snapshot: His mixes are whatever. Think: the music they play overhead at swankier gyms.
New music will be added as each installment goes live.

Friday's Set List: 16/49 Completed
Saturday's Set List: 0/59 Completed
Sunday's Set List: 0/52 Completed