Wristbands are here! Wristbands are here!
After spending the weekend listening to the final third of Friday's lineup, I could not have been any happier (or more relieved) to find our wristbands waiting for me in the mailroom at work today. The warmer weather and longer days make Coachella feel closer than ever and the arrival of wristbands made me that much more motivated to make my way through this lineup review.
In Volume III, I finally tackle some headliners after working my way up through Friday's earlier acts in
Volume I
and
Volume II
. I also had to come to terms with the fact that the higher I get on each day's list of bands, the more discography there is for larger acts, hence, the longer it takes to sift through everything. But in the process, I'm discovering so many songs that I can't get enough of.
How many songs exactly? Well, at the end of Day One,
the playlist
is at 10 hours long and counting...
Angus & Julia Stone
-
Pause
I usually blame Donny and Marie, but for whatever reason brother/sister musical duos kind of ick me out (one of the only exceptions being Spielberg-offspring,
Wardell
, because... awesome). It was really hard to get past how lovey dovey the Stone sibs sound singing to each other on their recent, self-titled album,
Angus & Julia Stone,
but I did it. And once I did, sadly I still wasn't super interested in seeing these folk-loving Aussies during their second Coachella run.
Todd Terje and the Olsens
-
Pause
Todd Terje (pronounced tare-yeh or yay) aka Todd Olsen is apparently a big deal for a lot of festival goers this year. His set with the Olsens (a full, live band that occasionally performs with him) at
last year's OYA fest
blew a lot minds and many are speculating that he'll bring famous singer/songwriter
Bryan Ferry
onstage again with him at Coachella. While his latest record,
It's Album Time,
is definitely more suited as the ambiance for bruschetta, market lights, seersucker and champagne, than it is for Heineken, sandstorms, rompers and that one good Thai booth, this still sounds like a can't-miss set for Friday.
Caribou
-
Pause
It was only after reading
this interview
that I was able to get past the blah trance
Our Love
put me in and appreciate Caribou's music in a new way. It's the perfect soundtrack for a lazy, hot desert afternoon, so if you find yourself with some downtime this is the set to relax and recharge during. Grab some food, find a spot in the shade and maybe take a nap while Dan Snaith, the Mathematics PhD (seriously) who performs under several stage names including Caribou, plays you some sonic lullabies.
Porter Robinson -
Pause
At first listen to Porter Robinson, I had to make sure that I didn't accidentally put on a Sleigh Bells record. The opening track to 2014's
Worlds
, "Divinity" kicks off with a sound that is nearly identical, but eventually Robinson's tentative departure from EDM starts to emerge: melancholy but hopeful tracks that are reminiscent of adolescence, of the internal life of suburban youth. It's likely not a performance that will make my final cut, but EDM fans interested in seeing how he's evolved since his last Coachella DJ set will definitely want to stop by.
DJ Snake
-
Pass
This French hip hop producer was one half of the team responsible for one of my favorite songs of last year, the AV Club-anointed "
blackout anthem
" otherwise known as "Turn Down for What." Because who doesn't want to get blackout drunk when they play "Turn Down For What" on repeat? I sure do. I sure have! It's insanely catchy. But for me, this is all DJ Snake is, was, and ever will be. I'm sure he has other songs. I just can't imagine ever caring about them.
Lykke Li
-
Pass
Lykke Li's (real name: Li Lykke) 2014 album,
I Never Learn
, has been hailed as one of the year's best releases and it seems that the only adjectives reviewers can find to describe the record is "heartbreaking" or "devastating." While her talent is undeniable, acts like this tend to harsh my Coachella vibes, so I don't forsee making it over to her tent of misery. It may not matter anyway: in January, the singer announced that she was pulling out of several international festivals overseas. Nothing's been said about Coachella, but it sounds as if there's a good possibility that she won't be bringing her achy breaky jams to Indio.
Raekwon and Ghostface Killah
-
Pass
I
tried.
Really, I did. But even in the days when all I listened to was hip hop, I never could get into Wu-Tang Clan or the solo music of two of its most prominent members, Raekwon and Ghostface Killah. For the listening party, I listened to most of Rae's classic solo album,
Only Built 4 Cuban Linx,
on which Ghostface Killah is featured on all but three songs.
It deals with a lot of things that were pressing to young rappists in the tri-state area during the nineties: drive-by shootings, endo, incarceration, getting cash, the projects, etc. Sound effects such as police sirens and gun shots are sprinkled throughout. It is lauded as one of the greatest hip hop albums of all time. And yet... I just can't. So while I have no interest in going, if you're a fan of the Wu, I'm sure there's a possibility you'll be treated to the whole group at their set.
Flying Lotus
-
Pass
FlyLo's set offers another potential opportunity to get a guest appearance from Kendrick Lamar, who is featured on his song, "Never Catch Me." Another artist featured on 2014's
You're Dead!
LP? Rapper Captain Murphy... who is FlyLo's other persona. That's right: FlyLo's album features FlyLo. Mostly slow, experimental electronic jams, this LA-based music producer is likely going to be found in the Sahara tent in the early evening, though he'd probably be more at home in Yuma.
Azealia Banks -
Pass
For the record, Azealia Banks is not the one who sings that "Fancy" song. That would be
Iggy
Azalea, her arch-nemesis and Twitter sparring partner. Don't get them confused because they hate each other. In fact, Banks
seems to publicly hate on a lot of artists
, a bold move for an artist with only one LP and one EP under her belt. Which is why Banks's over-inflated ego and propensity for shit talk is probably more well known than any of the songs off her mediocre dance-, latin- and island-infused rap album,
Broke With Expensive Taste
.
NERO
- Pause
This British dubstep trio made their 80s-influenced debut in 2011 and haven't released a full-length album since, though social media breadcrumbs would suggest that they're planning to drop a new record in conjunction with the festival. Their previous Coachella run in 2012 found them performing to a packed Sahara tent full of shirtless, fist-pumping dudes high on Molly. This year, they'll probably be the first major dance party of the weekend.
Ride
-
Pause
The genre of "shoegazing" is a term I was introduced to only several artists earlier, when I was reading about Porter Robinson. And now, hours later, I'm reading about how UK's Ride essentially helped to found the movement. Coachella kicks off a reunion tour for the band who broke up almost 20 years ago when founding members Andy Bell and Mark Gardener clashed over their opinions about the future of their sound. Bell went on to play bass for Oasis until they dissolved in 2009 and today, Ride's quintessential album is 1990's
Nowhere
, a record that Pitchfork lists as one of its
Top 100 Albums of the 1990s
. Oh and here's a fun game: listen to Ride's "Dreams Burn Down," then Coldplay's "In My Place." In fact, the audience at Ride's reunion set can probably spend the entire show appreciating the subtle and not-so-subtle ways this relatively forgotten British staple has influenced some of their favorite bands.
Alabama Shakes
-
Play
Powerhouse lead singer Brittany Howard's throaty, Joplin-esque vocals gained a lot of attention following the release of 2012's "Hold On," a song you've probably heard if you have ears. But don't expect the Shakes to play too much of the rest of
Boys & Girls,
their soulful, gold-selling debut record: after three years of touring for
Boys & Girls,
they're releasing their sophomore album right after the festival, promising fresh tunes at their sundown session this year.
Alesso
-
Pass
Sweden's Alesso is enjoying back-to-back Coachellas during his return to Indio this year. His rave is essentially going to be Sahara's main event Friday night, at which point I probably will be as far away as possible in the opposite direction. Nothing against the 23-year-old... after all, he has opened for Madonna. It's that any headlining EDM acts essentially epitomize what I don't get about the genre.
Steely Dan
-
Play
Depending on who you talk to, Steely Dan's appearance on the Coachella lineup has either ruined or made the festival for them. Either way, between them and AC/DC, be prepared for an overabundance of 45+-year-olds in attendance this year. For my own Steely Dan education, I chose 2006's
The Definitive Collection
and I was surprised by how much of it I actually knew. Who knew all those long drives with my dad as a kid were soundtracked by a future Coachella headliner? And San Diego, if you're not headed to the desert and want to see The Dan all the same, they'll be playing at Humphrey's the Saturday of both weekends.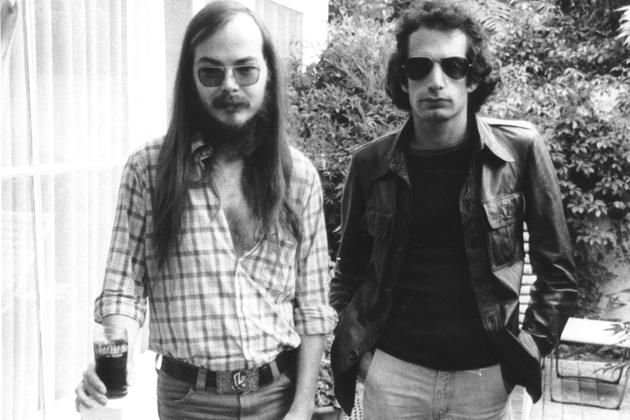 Interpol
-
Pause
Musically, Interpol is right up my alley. They have the same angsty indie rock vibe as The National, Airborne Toxic Event, or The Strokes... all bands that I absolutely love. What they
don't
have, and the reason I probably never paid much attention to them before, is the same standout lyrics as those other bands. There aren't many catchy verses, no choruses that get stuck in my head. Half the time on
El Pintor
, I couldn't hear or understand what lead singer Paul Banks was even saying (a move that was actually intentional;
says Banks
: "Other mixers I've worked with want my voice to ride on top of the mix, but I always wanted more fur on it"). But when it comes to a live performance, I feel like Interpol will put on a great show.... maybe even one of Friday's best.
Tame Impala
-
Play
Aussies opening for Aussies.... looks like the two top billed artists for Friday are both from down under. And for as much as I love Tame Impala's music, I have my hesitations: Tame Impala has been kind of lackluster at Coachella before. The difference this year is that they're finally playing at night and I honestly think that a light show will add to their psychedelic rock in a major way. The question is: will they overlap with Steely Dan? Most of the speculation on the forums has them conflicting with Caribou or FlyLo, but given their subhead positioning on the bill, I'd say a conflict with The Dan is more likely.
AC/DC
-
Play
As someone who spent a good amount of time as an underage patron of various Long Island clubs, I have done my fair share of shaking all night long to AC/DC while pounding Bud Light. The Aussie band holds the prestige of being the
10th Best Selling Band in the U.S.
and is often considered to be the best heavy metal band of all time. So though I'm not outrageously happy about them nabbing a headlining spot this year, I'm definitely not worried about enjoying myself as they close down Day One. My AC/DC game plan involves watching them from the beer gardens and actually taking our friend Ian up on his joke that we play a game of
Thunderstruck
. Sadly, this is the first and only artist so far not to make it on to the playlist, since AC/DC doesn't allow their music to be played on Spotify, but never fear: if you want to brush up on all their hits, you can pretty much find everything on their Vevo channel or in your local dive bar.
New music will be added as each installment goes live.

Friday's Set List: 49/49 Completed
Saturday's Set List: 0/59 Completed
Sunday's Set List: 0/52 Completed